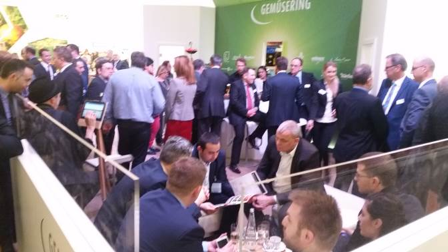 As one of the largest and most relevant International Trade fairs for fresh Fruit and vegetables trade in the world, Fruit Logistica in Berlin, Germany is a place where thousands of leading F&V exporters and importers, trade agents, buyers meet, exchange offers, offer latest technology and do business. Last year assistance provided by REG was very beneficial to Balkan companies exhibiting at the fair. It brought them new contacts, links with relevant buyers and support in better understanding market requirements, specifically coming from larger retailers.
Therefore, REG Project again this year supported companies exhibiting at Fruit Logistica 2016 from February 3rd to the 5th.
Eleven companies from Macedonia and six companies from Albania exhibiting at National Stands as well as two Serbian and two Bosnia Companies exhibiting at individual stands at Fruit Logistica 2016 Trade Fair . Companies were individually responsible for exhibiting at the fair. They were represented by owners, export managers or commercial directors accountable for all export sales activities and compliance with food safety and quality standards as well as other market requirements.
Following the guidelines and specific profiles of participating companies, the German expert worked on identifying companies that are already importing or are interested in supplying fresh F&V from the Balkan countries and developed a detailed trade mission program to respond to assignment objectives. The program included organized prearranged B2B meetings with selected relevant importers/traders or larger retailers including organized visits at the stand for those exhibiting at Fruit Logistica 2016.
The activity assisted REG exhibitors at Fruit Logistica 2016 in establishing relevant contacts, presenting their companies to potential buyers, managing existing customer relationships and developing new business. Based on many established business contacts, several exhibitors reported potential orders from potential buyers at the trade fair and anticipate good post-exhibition business. It is expected majority of REG exhibitors to have commercial success from their participation on Fruit Logistica 2016.